The Esp8266 device is a common microcontroller if you need wifi/wireless lan/wlan on a device.
Programming of the esp can be done using different environments and programming languages.
One quite popular method to programm this device ist the PlatformIO ecosystem.
One nice feature of the device is the option to do an over-the-air firmware update (OTA Update).
PlatformIO support this option, but does not provide a standalone firmware updater to flash the generated bin file to the device.
This means, if you want to use the OTA feature you need to have PIO installed.
This is not what a customer may want.
PlatformIO provide a cloud infrastructure do an update using the world wide web.
This is not what you may want.
Therefore we implemented a tool to update just the compiled bin file to the ESP device.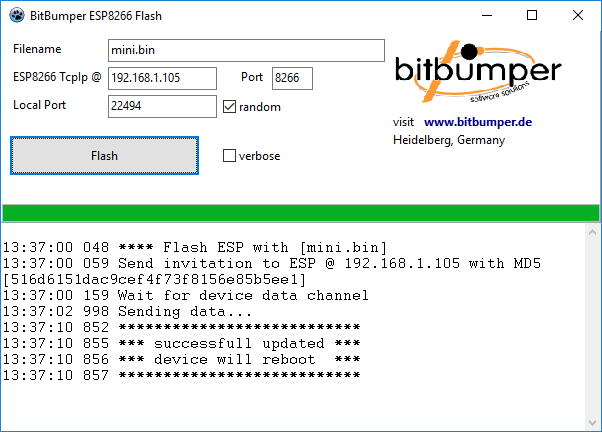 This tool is also available if the IoT device run in an local subnet or does not have access to the WWW for other reasons.
Customer will be able to update the device just by himself, using a PC and a local network.
Download developers documentation
The program does not need an installation.
Just download the FlashEsp8266.zip with the link below.
Unzip the file to FlashEsp8266.exe and start the program.
Select a bin file and the IP target and click "Flash".
Thats it! The program will transfer the bin file to the device in OTA mode.
The tool is industrial proved and used to update the gauge module M3 of our customer rAAAreware.